Peanut Butter & Jelly Pancake Dippers
Breakfast
Try a twist on the lunchtime classic sandwich – for breakfast! These PB&J pancake dippers are a simple, kid-friendly recipe the whole family is sure to enjoy. Combining two favorite flavors, a peanut butter pancake with a jelly dip, this breakfast is simple to make, fun to eat, and good for you, too, especially when you pair with milk for additional protein to fuel your morning.
Ingredients
1/4 cup – old fashioned rolled oats
1/2 cup – whole wheat flour
1/4 cup – all-purpose flour
1/4 teaspoon – salt
2 teaspoons – brown sugar, packed
1 teaspoon – baking powder
1 – large egg
1 tablespoon – vegetable oil
4 tablespoons – reduced-fat creamy peanut butter
1 cup – fat-free milk
 non-stick cooking spray
1/3 cup – sugar-free raspberry preserves, for dipping
Pair each serving with: 8-ounce glass of milk
DIRECTIONS
Combine oats and flours in a blender and pulse 3-4 times. Add salt, brown sugar, baking powder, egg, vegetable oil, peanut butter, and 1 cup milk. Pulse several times until combined and there are no lumps in the batter.
Preheat a non-stick skillet to medium-low heat and lightly grease with cooking spray. Pour 1/4 cup batter onto the skillet, allow to cook 1-2 minutes until bubbles appear around the edges, then flip and allow to cook another 1-2 minutes until golden. Immediately roll up pancakes and secure with a toothpick. Repeat process with remaining batter.
Serve with raspberry preserves for dipping and pair with remaining 8-ounce glass of milk. Enjoy!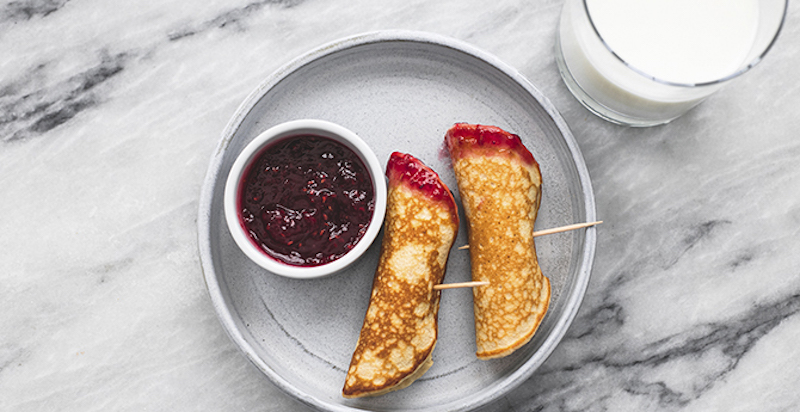 NUTRITION
310 calories; 9 g fat; 1.5 g saturated fat; 45 mg cholesterol; 17 g protein; 43 g carbohydrates;  3 g fiber; 430 mg sodium; 431 mg calcium. Nutrition figures based on using fat-free milk, and include an 8-ounce glass of fat-free milk.