Your kids will heel for breakfast when you prepare this puppy peanut butter sandwich recipe. With a few simple steps, a traditional lunch favorite becomes a kids' best friend in sandwich form. After spreading peanut butter on bread, fashion crackers as ears and use raisins for the eyes and nose. Serve this puppy-faced sandwich with an 8-ounce glass of milk, you give your kids the milk they love, with protein they need, to give them a good start on the day.
Ingredients
2 slices – wheat bread
2 tablespoons – reduced-fat creamy peanut butter
1 tablespoon – honey
1/2 of 1 small strawberry
3 – raisins
2 – oval-shaped buttery crackers
extra peanut butter, for ears (optional)
Pair each serving with:
8-ounce glass of milk
DIRECTIONS
Spread peanut butter on one slice of bread. Spread or drizzle honey over peanut butter. Top with second slice of bread.
Arrange sandwich with the curved crust side pointing downward. Use a butter knife to push center of the curved crust up toward the middle of the sandwich (this part is shaping the cheeks of the puppy face).
Place crackers diagonally on the top corners of the sandwich to make ears. If needed, use a little extra peanut butter to adhere the ears.
Place raisins in an inverted triangle shape to make eyes and nose. To make the tongue, push strawberry half, cut-side-down, slightly in between the two slices of bread at the point where you previously pushed the crust up to make the cheeks.
Serve with an 8-ounce glass of milk.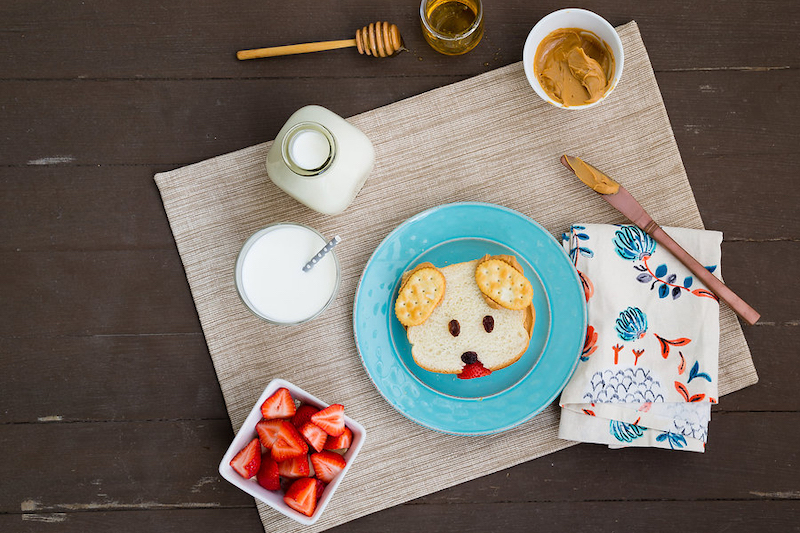 NUTRITION
420 calories; 12 g fat; 2 g saturated fat; 5 mg cholesterol; 22 g protein; 57 g carbohydrates; 5 g fiber; 570 mg sodium;  409 mg calcium. Nutrition figures include an 8-ounce glass of milk.