Ingredients
PRETZEL:
1 cup – baking soda
2 11-ounce cans – store-bought French bread dough
2 cups – water
1 – large egg, beaten with a splash of water
1/2 cup – sesame seeds
1/4 teaspoons – flaky salt
ZA'ATAR MOZZARELLA SAUCE:
2 tablespoons – unsalted butter
2 tablespoons – all-purpose flour
1 cup – real milk
1 cup – shredded part-skim mozzarella
2 teaspoons – za'atar
kosher salt and black pepper, to taste
crushed red pepper or hot sauce (optional)
Pair each serving with:
8-ounce glass of real milk
DIRECTIONS
Directions for Pretzels:
Preheat the oven to 250°F, spread the baking soda out in an 8×8" baking dish and bake for 1 hour, then let it cool and set it aside. This can be prepped ahead and stored in an airtight container for several weeks. Even though the baked baking soda isn't as strong as lye, which is traditionally used for making pretzels, it could still potentially irritate your skin, so avoid touching it with bare hands once it's out of the oven.
To form the pretzels, line two baking sheets with parchment paper and preheat the oven to 350°F. Divide the dough into 8 pieces and then roll into snakes, about 3/4-1" thick. Press the ends together to form big ovals and transfer to the baking sheets, one inch apart.
Add the water to the dish with the baking soda and whisk gently to dissolve the baking soda (it likely won't all dissolve, a few baking soda chunks are ok as long as you remove any that stick to the dough).
Using gloved hands, tongs, or a slotted spoon, and working in batches, immerse the pretzels into the mixture for 2-3 minutes on each side. Transfer to a plate or pan lined with a paper towel and pat them dry and then place them back on the baking sheet.
Brush each pretzel with the egg wash, sprinkle sesame seeds evenly and add a few pinches of Kosher salt. Bake until deep golden brown; begin checking at 16 minutes. Let cool slightly and serve warm with cheese sauce and a glass of real milk!
Directions for Mozzarella Sauce:
In a saucepan, melt the butter over medium heat. Whisk in the flour and cook for another minute. Add half of the milk and whisk until thickened and then add the other half, continuing to whisk until thickened. If you prefer thinner sauce, add another splash of milk. Add the mozzarella and whisk until melted.
Season to taste with salt, pepper, and red pepper or hot sauce, if using. Transfer to a serving bowl, top with za'atar and serve.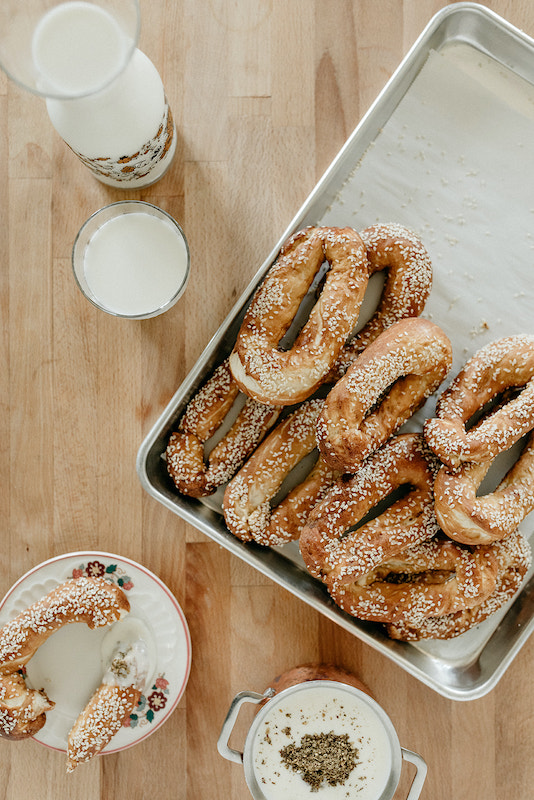 NUTRITION
430 calories; 15 g fat; 6 g saturated fat; 50 mg cholesterol; 22 g protein; 54 g carbohydrates; 3 g fiber;  740 mg sodium; 555 mg calcium. Nutrition figures based on using low-fat milk and include an 8-ounce glass of milk.
Recipe & photo by Molly Yeh