Slow Cooker Mashed Potato and Cauliflower with Cheese
Odds And Ends
This slow cooker recipe will elevate your comfort food. Just let cauliflower, potatoes and Cheddar cheese cook in milk broth for a new family favorite.
Mix russet potatoes and cauliflower florets in your slow cooker with a milk broth to create the perfect mash. Top with a trio of cheeses, brown butter and fresh sage, and your family will have a new favorite comfort food recipe.
Ingredients
3 pounds (about 3 large) – russet potatoes, peeled and chopped into 1-inch chunks
1 1/2 pounds – cauliflower florets (from 1 large head cut into 6 or 8 large chunks)
4 cloves – garlic peeled and minced
1 1/2 cups – milk, divided
1 cup – chicken broth
1 teaspoon – kosher salt
1/2 teaspoon – freshly ground black pepper
1 cup – shredded sharp Cheddar cheese
1/2 cup – mascarpone cheese
1/2 cup – grated Parmesan
4 tablespoons – salted butter
10-12 – large sage leaves
DIRECTIONS
Layer potatoes in the bottom of the slow cooker. Place cauliflower on top and add garlic, 1 cup milk, chicken broth, salt and pepper and toss to coat. Cover and cook until fork tender, about 4-5 hours on high or 6-7 hours on low, gently mixing once halfway through.
Mash mixture using a potato masher or electric mixer. Stir in the cheeses, cover, and cook another 5-10 minutes or until cheese has melted.
While the cheese melts, melt butter in a small skillet over medium heat. Swirling the pan occasionally, watch for the color to change from yellow to golden-tan to a warm brown. Once brown, add the sage and cook for 30 seconds, stirring once or twice.
Remove skillet from heat. Transfer sage to a paper towel-lined plate to remove excess butter and then coarsely chop.
Just before serving, heat remaining 1/2 cup milk in the microwave for 45-60 seconds and stir into potatoes until desired consistency is reached, adding more if necessary. Stir in browned butter and sage and season with additional salt and coarsely ground black pepper, if desired.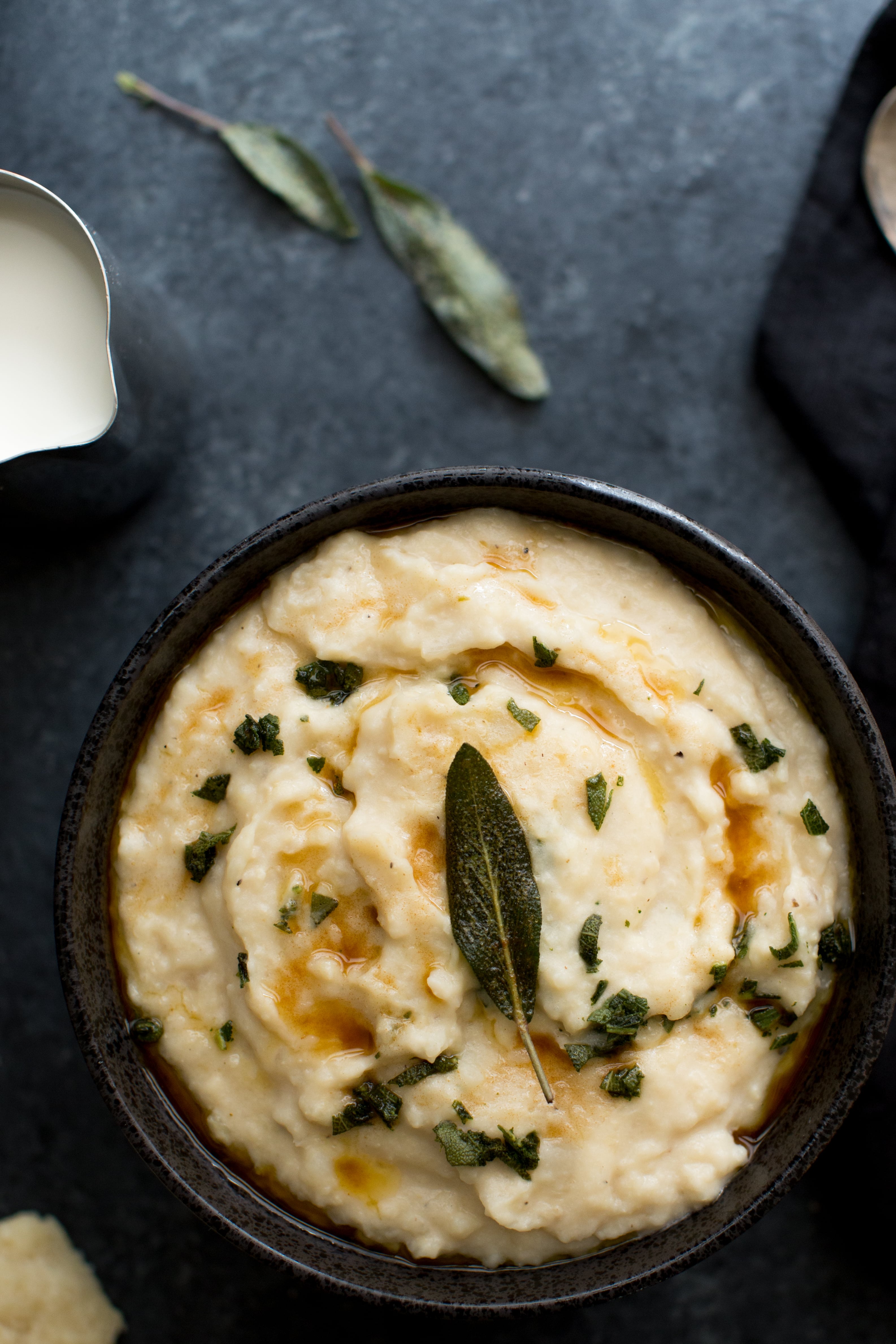 NUTRITION
200 calories; 13 g fat; 7 g saturated fat; 35 mg cholesterol; 7 g protein; 16 g carbohydrates; 2 g fiber; 310 mg sodium; 148 mg calcium. Nutrition figures based on using fat-free milk.