This simple recipe is bound to sweeten up your holidays. It's a perfect treat for the whole family to enjoy on a cold winter day!
Ingredients
1 cup – whole milk (split into 3/4 cup and 1/4 cup for later)
1 teaspoon – corn starch
2 tablespoons – sugar
2 1/2 tablespoons – cocoa powder
1 bar – dark chocolate, chopped
Optional Ingredients:
1/2 cup – marshmallow fluff
3-4 – large marshmallows
2 ounces – vodka
whipped cream
DIRECTIONS
Pour 3/4 cup of milk into a pot and bring to a boil. While boiling, combine 1/4 cup of milk and corn starch in a small bowl and whisk until mixed.
Once the milk is boiling, set temperature to low and add your corn starch and milk mixture and stir. Then add the sugar and cocoa powder and continue stirring.
Add your chopped dark chocolate, and whisk/stir for about 3 minutes or until thick and smooth. Pour into a mug and top with marshmallow fluff and/or toasted marshmallows if desired. Enjoy while it's hot!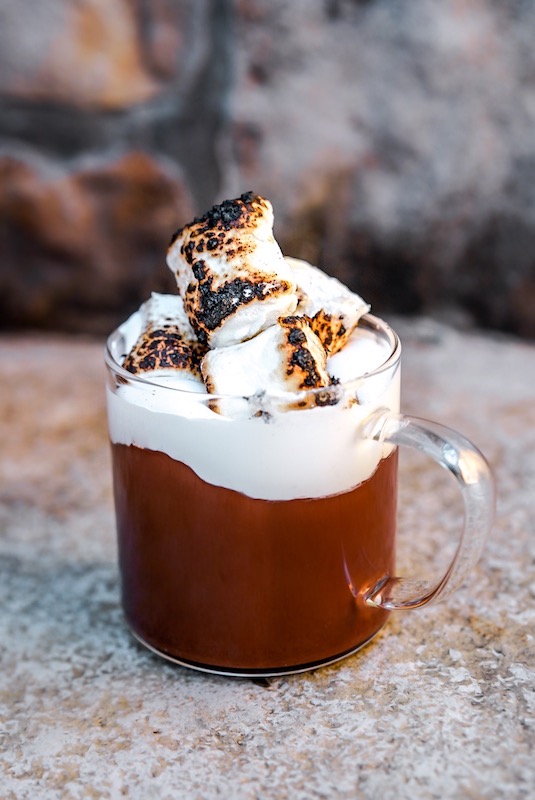 NUTRITION
870 calories; 47 g fat; 27 g saturated fat; 40 mg cholesterol; 16 g protein; 113 g carbohydrates; 5 g fiber; 110 mg sodium; 298 mg calcium. Nutrition figures based on using whole milk and do not include optional ingredients.
Recipe & photo by: Justin Schuble of DCFOODPORN