Ingredients
3 cups – organic fat-free milk
1 cup – water
1 1/2 cups – organic steel cut oats
1/2 cup – walnuts, finely chopped
1 teaspoon – vanilla extract
1 teaspoon – cardamom
1/4 teaspoon – salt
1 teaspoon – butter
2 cups – fresh strawberries, sliced
1 cup – plain non-fat Greek yogurt
honey or maple syrup, if desired
Pair each serving with:
8-ounce glass of milk
Morning snack:
24 – almonds, unsalted
DIRECTIONS
Mix together 3 cups milk and water in a medium saucepan. Heat over medium-high heat just until boiling.
Stir in the steel cut oats, reduce heat, and simmer for 30 minutes until most of the liquid is absorbed and the oats are thick. Remove from the heat and add in the walnuts, vanilla, cardamom, and salt, stirring until incorporated throughout.
Line a 13×9″ baking sheet (slightly larger will also work) with parchment and spread the oats into an even layer. Allow to cool to room temperature and then place in the fridge overnight or for at least 4 hours.
When ready to eat, cut the oats into 10 squares. Heat a frying pan to medium-high heat. Add a bit of butter into the pan. Cook the oatmeal squares for 5 minutes on each side or until golden brown.
Top with strawberries, yogurt, and a drizzle of honey or maple syrup. Serve with an 8-ounce glass of milk.
Enjoy a morning snack of 1 ounce almonds to help get 32 grams of protein before noon.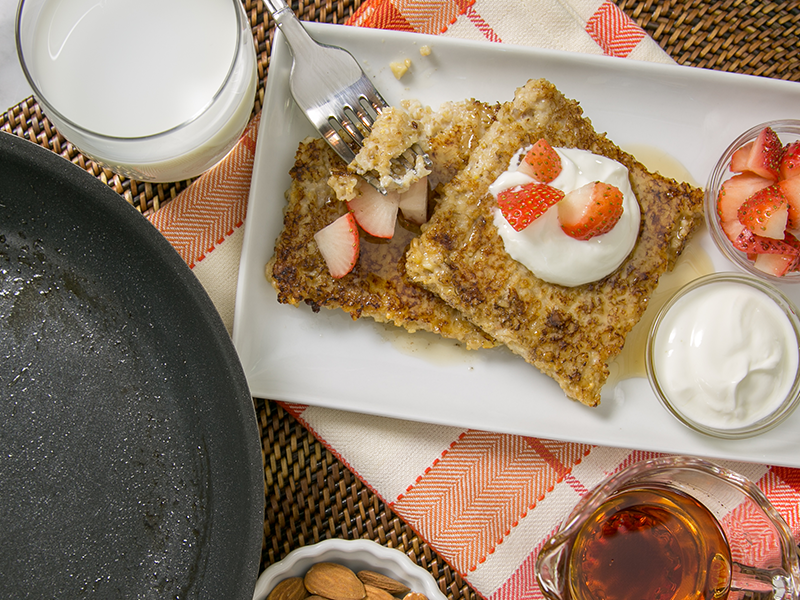 NUTRITION
Steel Cut Oat Pancakes:
450 calories; 12 g fat; 2 g saturated fat; 10 mg cholesterol; 26 g protein; 61 g carbohydrates; 7 g fiber; 300 mg sodium; 560 mg calcium. Nutrition figures based on using fat -ree milk, and include an 8-ounce glass of milk.
Morning Snack:
170 calories; 15 g fat; 1 g saturated fat; 0 mg cholesterol; 6 g protein; 5 g carbohydrates; 3 g fiber; 5 mg sodium; 67 mg calcium (6% of daily value).