If your kids love your mac and cheese recipe with milk but need veggies in the mix too, here's a nutritious tweak to make. This kid-friendly version is refined enough for adults too.
Ingredients
8 ounces – uncooked elbow macaroni
1 1/2 tablespoons – unsalted butter
1 1/2 tablespoons – flour
3/4 cup – low-sodium chicken or vegetable broth
1 1/4 cups – reduced-fat milk
3/4 teaspoon – dry mustard
1/4 teaspoon – kosher salt
12 ounces (about 4-5 cups) – cauliflower florets cut into 1" chunks (from 1 small head)
1 1/2 cups – shredded cheese (Cheddar, Gruyère, Monterey Jack, etc.)
Optional toppings:
fresh parsley, freshly ground pepper
DIRECTIONS
Cook the pasta according to package directions. Drain and set aside.
Melt butter in a large saucepan over medium-low heat. Add flour and stir constantly just until roux puffs slightly, about 1-2 minutes. Stir in the broth, milk, dry mustard and salt until smooth.
Increase heat to medium-high. Add cauliflower and bring milk-broth to a rapid simmer, stirring frequently. Immediately reduce the heat back to medium-low, cover and simmer until cauliflower is very tender, about 10-12 minutes, stirring occasionally.
Carefully transfer cauliflower and milk-broth to a blender. Firmly hold the lid to prevent hot liquid from escaping and puree until completely smooth, about 20-30 seconds. Return puree to pan over medium-low heat. Add the shredded cheese and cooked macaroni, stirring well until cheese has melted. Serve immediately with fresh parsley and additional salt and pepper to taste, if desired.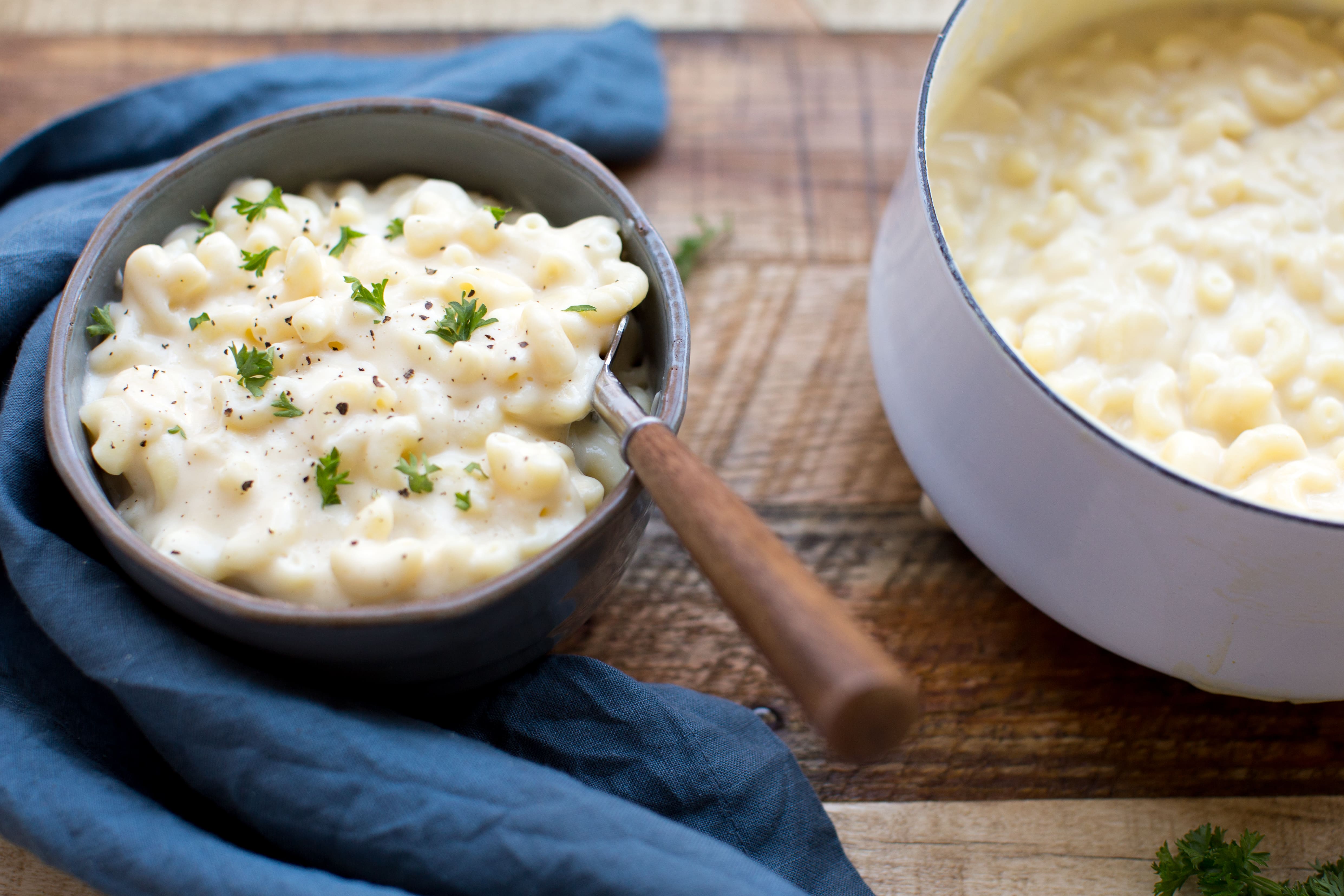 NUTRITION
330 calories; 15 g fat; 9 g saturated fat; 40 mg cholesterol; 16 g protein; 35 g carbohydrates; 3 g fiber; 310 mg sodium; 290 mg calcium. Nutrition figures based on using reduced-fat milk.