Tamales are a traditional dish across Latin America, served from breakfast to dinner. Its "masa", dough made from ground corn, has been part of Mexican cuisine since pre-Hispanic times. Carnitas originated in Michoacán state in Mexico, but are enjoyed throughout the country.
Ingredients
Carnitas (Pulled Pork):
3 pounds – pork shoulder
2 – bay leaves
1 tablespoon – salt
1 teaspoon – pepper
2 cups – milk
1 – orange
1 cup – brown sugar
1 pound – coconut oil
3 cloves – garlic
1/2 cup – onion, small dice
Tamal Butter:
2 cups – masa harina
4 1/2 cups – low-sodium chicken broth (or beef, vegetable, etc.)
3/4 cup – lard or shortening
1 tablespoon – salt
Salsa Verde:
1 pound – tomatillos, peeled and washed
1 bunch – cilantro, clean
1/2 – onion, diced
3 cloves – garlic
2 – serrano peppers
Assembly:
12 – banana leaf wraps, fresh or frozen (can also use corn husks)
Pair each serving with:
8-ounce glass of milk
DIRECTIONS
Carnitas (Pulled Pork) Directions:
Place meat, garlic, onion, bay leaves, milk, salt and pepper in a medium pot. Once the milk reaches a boil, add coconut oil, orange slices and brown sugar, and cook on medium low until tender. Test the meat with a fork to make sure it easily pulls apart.
Remove pork from liquid, and set aside until you're ready to assemble the tamales.
Tamal Batter Directions:
Mix masa and broth together until all broth is absorbed. Whip in lard and salt until smooth. Set this mixture aside, as well.
Salsa Verde Directions:
Toast all ingredients until soft and caramelized in a dry comal or cast iron pan. Stir vegetables and season with salt, to taste.
Assembly Directions:
Place 1/4 cup of masa in each banana leaf and spread thin. Add 2 tablespoons of pulled pork and salsa.
Carefully roll each tamal closed, tying with string so that it stays together. Alternately, you can rip off a small edge of the banana leaf, and use that to tie the tamal closed.
Steam for approximately 30 minutes in a steamer, or using a large pot of boiling water with a steamer insert. Turn off the heat, and let the tamales cool (as they will set at room temperature). If you like, you can remove one right away, and use it as a tester to tell when the others are cool, and ready to be removed from the steamer.
Unwrap the tamales when you're ready to enjoy, and pair each with a glass of milk!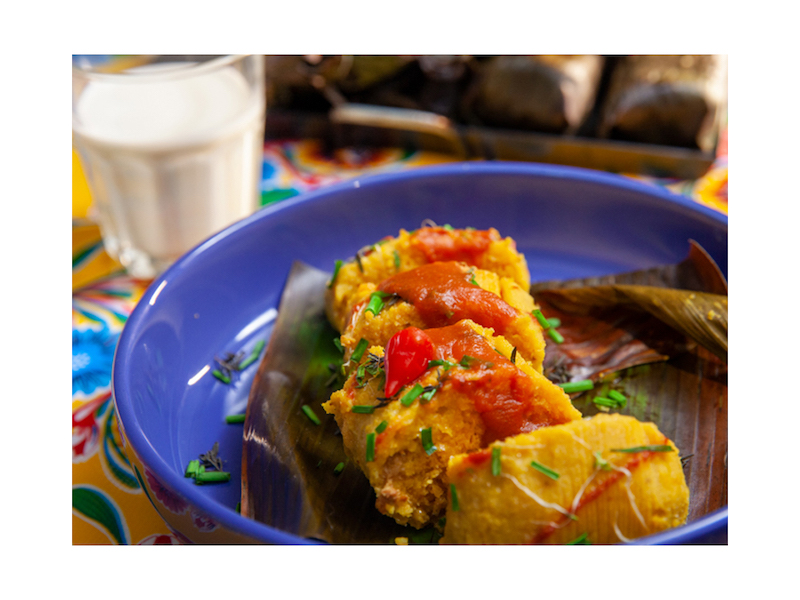 NUTRITION
470 calories; 25 g fat; 10 g saturated fat; 95 mg cholesterol; 34 g protein; 29 g carbohydrates; 2 g fiber; 800 mg sodium; 331 mg calcium. Nutrition figures do not include ingredients used to cook and season the pork (as these are discarded), and do include an 8-ounce glass of low-fat milk.
Recipe and photo by Claudette Zepeda