A delicious new take on an iconic Sunday dinner dish.
Recipe by Pro Basketball Player and Registered Dietitian Briana Butler
Ingredients
2 pounds ground turkey
1 egg
1 tablespoon olive oil
1⁄2 teaspoon salt
1 tablespoon italian seasoning
1 teaspoon dried fennel seed
1 teaspoon onion powder
1 teaspoon garlic powder
1⁄8 teaspoon ground black pepper
1⁄2 tablespoon salted butter
1 chopped shallot
4 cloves minced garlic
6 ounces tomato paste
1⁄2 cup vodka
1 3⁄4 pounds San Marzano peeled tomatoes
1 1⁄2 cups milk, 2% fat
1⁄4 cup grated Parmesan cheese
1⁄4 cup chopped fresh basil
DIRECTIONS
Turkey Meatballs
Preheat the oven to 400F.
In a large bowl, combine turkey, egg, one teaspoon of olive oil, salt and spices in a bowl, and mix well.
Form 15–16 small meatballs and set aside.
In a large pan, heat one teaspoon of olive oil.
Add meatballs and cook for about 3–5 minutes on each side until browned.
Transfer to an 8×8 pan, top with the butter and 2 tablespoons of the Parmesan cheese, and cover with foil. Place in the oven and cook for about 15–20 minutes or until the internal temperature reaches 165F.
When meatballs are fully cooked, remove sauce from heat and add in meatballs.
Top with basil, add salt and pepper to taste, and enjoy over pasta or rice!
Vodka Sauce
In a sauce pot, heat the remaining one teaspoon of olive oil over medium-high heat.
Add shallots and garlic and sauté until fragrant.
Add in tomato paste and continuously stir until the red color darkens.
Add in the vodka and deglaze the pan for about one minute.
Add in tomatoes and use a spatula to chop up the tomatoes.
Slowly stir in milk and mix well. Cook down for about 5–10 minutes.
Add in the remaining cheese and reduce heat to a simmer for about 10–15 minutes.
Tips
If you desire a more pink sauce, you may add in more milk or heavy cream, though you may need to add about a 1/2 teaspoon extra of your meatball spices to your sauce to maintain flavor.
This dish pairs perfectly with a serving of fresh orzo pasta, but can work well with any pasta or rice that you choose.
You may swap one pound of your turkey for a local Italian chicken sausage for added flavor and depth.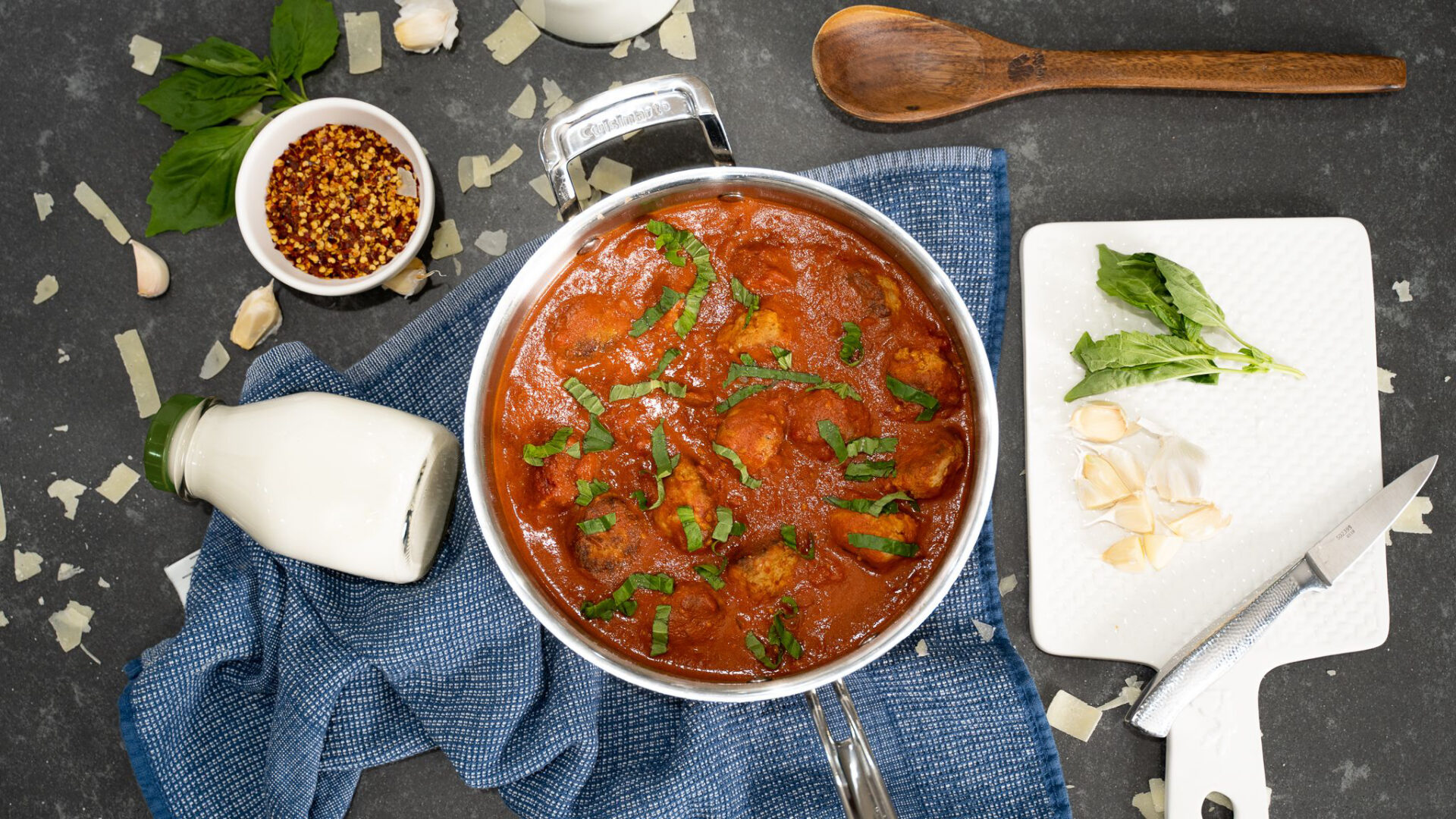 NUTRITION
Protein 28g, Total Fat 14g, Carbs 12g, Calories 312kcal, Fiber 3g, Calcium 142mg, Iron 8.8mg, Folate 19DFE, Fruits 0 servings, Vegetables 0.24 servings, Saturated Fat 4.3g, Sodium 475mg, Added Sugar 0g.