Vegetable and Sausage Mini Protein Quiches
Breakfast
Serving up protein at breakfast is a snap with this mini quiche recipe. Use a muffin tin to create individual sausage quiches that are perfect for a make-ahead grab-and-go protein breakfast that has 35 grams of protein when paired with a glass of milk.
Ingredients
2 – large eggs
1/2 cup – milk
4 ounces – cooked turkey sausage
1 teaspoon – olive oil
4 – button mushrooms, chopped
1/4 cup – red bell pepper, diced
2 – scallions, thinly sliced
1/4 cup – Swiss cheese, shredded
dash – pepper
salt (optional)
Pair each serving with:
8-ounce glass of milk
DIRECTIONS
Preheat oven to 375°F. Spray a muffin tin (6 cavities) with non-stick spray; set aside.
In a medium bowl, whisk together eggs and 1/2 cup milk. Season with salt (optional) and pepper to taste; set aside.
Place a non-stick skillet over medium heat. Add turkey sausage and cook until cooked through; break sausage up with a wooden spoon into small crumbles. Remove turkey from pan and drain on a paper towel lined plate. Wipe out pan. Add olive oil, mushrooms, red peppers and scallions. Sauté until vegetables have released their liquids. Drain veggies and set aside.
Divide sausage and vegetables between 6 prepared muffin tins. Pour egg mixture over fillings, dividing between the 6 muffin cavities. Sprinkle with cheese.
Bake mini quiches for 18-20 minutes or until eggs are set. Allow quiches to cool slightly before removing from pan. Serve with an 8-ounce glass of milk and enjoy.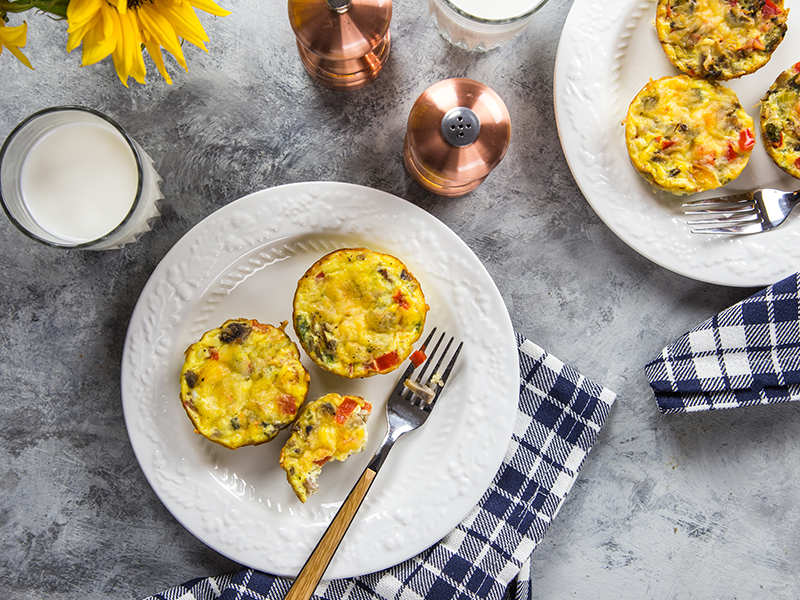 NUTRITION
370 calories; 17 g fat; 4.5 g saturated fat; 255 mg cholesterol; 35 g protein; 19 g carbohydrates; 1 g fiber; 590 mg sodium; 535 mg calcium. Nutrition figures based on using fat-free milk, and include an 8-ounce glass of milk.